From Goodreads:
The polls are now open! It's time to spread the word to your readers and drum up votes for your blog! Voting continues until 11:59 pm EDT, Monday, April 23. Be sure to blog about the awards throughout the voting period, and don't forget to add the voting widget to your site to let all of your fans know where to go.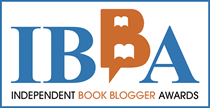 The rules: The polls allow one vote per person in each of the four categories, and voters must be Goodreads members so that we can accurately tally the results. When polls close, the top 15 blogs in each category will become finalists.
Winners will be selected from among the finalists by a panel of industry judges. Each of the four category winners will receive a pass to BookExpo America (June 5-7, 2012) with airfare and hotel accommodation in New York City.
Help me get to New York City! Vote for me if you liked my reviews.
/**/
Vote for this blog for the Independent Book Blogger Awards!

You can find me under "Nikki's Journal."